This easy side dish is perfect with all sorts of food, such as grilled chicken, steamed fish and even grilled steak. Garlic and rosemary combine with lentils to create a fragrant side dish that everyone will enjoy.
Ingredients:
2 x 400g tins lentils, drained
2 cloves of garlic
1 tbsp. freshly chopped rosemary leaves
Juice of one lemon
2 tbsp. olive oil
Salt and pepper
Method of Preparation:
Mince the garlic cloves.

Heat the oil in a large pan and fry the garlic and rosemary until fragrant.

Tip in the drained lentils and fry for another few minutes until heated through.

Drizzle the lemon juice over and season with salt and pepper. Serve warm.
Author: Laura Young.
Back to the Lentil Recipes home page.
Add a Review or Comment:
Conversions
400g
about 14 oz

(14.1092 oz based on 0.035273 ounces in a gram)
Data:
Published:
September 16, 2011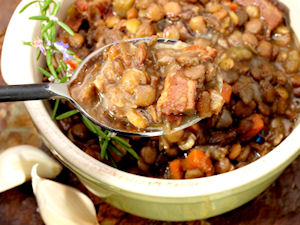 Similar Recipes:
Spanish Lentils


Try cooking lentils in a Spanish style rather than the usual Asian style by frying them in chorizo, garlic and shallots before ...

Curried Coconut Lentils


This surprisingly simple lentil dish combines the simple earthy flavours of lentils with the flavour combinations of onion, gar...

Crispy Lentil Fingers


These delicately spiced red lentil fingers are perfect for serving with any sort of Indian food, including mango chutney and ra...